Try my healthy dairy free protein pancakes – great for a post workout meal and fun to cook with the whole family.  I make them every weekend with my daughter she loves them!!

Ingredients
1 cups of vanilla protein powder
1 cup oats
½ banana2 eggs
1 tbsp chai seeds
¼ cup water
Method
Place all ingredients in a blender; add water and blend until your desired smooth consistency.
These are my favourite toppings
Banana
Strawberries
Honey
Spinach & Ricotta Frittata
Prep Time:5m cook time:12m Total Time:17m
SERVES | 4
INGREDIENTS:
8 egg whites
1 large egg
1/3 cup unsweetened almond milk
1 tbsp. coconut oil
2 cloves garlic, minced
1 medium onion, thinly sliced
4 cups baby spinach
Sea salt and Pepper to taste
Pinch ground nutmeg
2/3 cup low-fat ricotta cheese
1 tomato
PREPARATION:
Preheat oven to 190°C.
In a medium bowl, whisk together egg whites, egg and almond milk until frothy, set aside.
Heat oil in a 20cm non-stick frying pan on medium. Add garlic and onion and sauté for 3 to 4 minutes or until softened.
Add spinach to pan and cook, stirring until wilted.
Pour egg mixture into pan and sprinkle ricotta evenly over the top.
Arrange tomatoes in an overlapping pattern on top and season with salt, pepper and nutmeg.
Cook for 3 minutes, until eggs begin to set on the bottom. Transfer pan to oven and bake for 8 minutes or until eggs are firm. Cut frittata into 4 wedges and serve immediately.
NOTE:
Prep Time:5m cook time:5m0 Total Time:10m
SERVES | 2
INGREDIENTS:
4 egg whites
1 mushroom chopped finely
4 thin slices of capsicum finely chopped
1 stick of spring onion finely chopped
6 baby spinach leaves finely chopped
PREPARATION:
Beat egg whites together.
Add chopped ingredients and combine.
Cook in two egg rings in moderate pan greased with coconut oil. (keeps a nice shape then)
Once top has gone slightly opaque flip and cook the other side.
NOTE:
For full breakfast have full recipe for one person or as a side to breaky just have the one. =)
Mushroom and Ricotta Egg White Omelette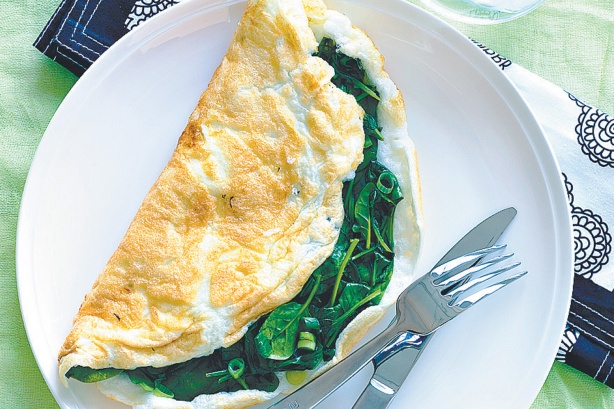 Prep Time:5m cook time:7m Total Time:12m
SERVES | 1
INGREDIENTS:
5-6 egg whites, lightly beaten
1/4 cup spinach roughly chopped
½ tsp fresh basil, chopped
6-8 mushrooms, sliced
2 green onions, chopped
20g ricotta cheese
Pinch rock salt and pepper (to taste)
Coconut oil
PREPARATION:
Add 1/2 a tsp coconut oil to a medium non-stick pan and heat over medium heat
Add the mushrooms, sprinkle with salt and pepper and cook until nice and golden brown.
Add green onions and spinach and cook for about a minute. Remove from pan and set aside.
Wipe pan clean, add another 1/2 tsp coconut oil and return to heat.
Add the egg whites, basil salt and pepper into a small mixing bowl and lightly whisk.
Poor egg mixture into the pan, making sure it covers to full pan. Cover loosely and cook for about 5 minutes, until almost opaque.
Spread the mushrooms, spinach and green onions on one side of your omelette then sprinkle the ricotta on top.
Fold empty side of the omelette over the filling.
Leave on low for 2 minutes.
Serve and enjoy =)
NOTE:
Goes nicely with a glass of freshly squeezed orange juice!