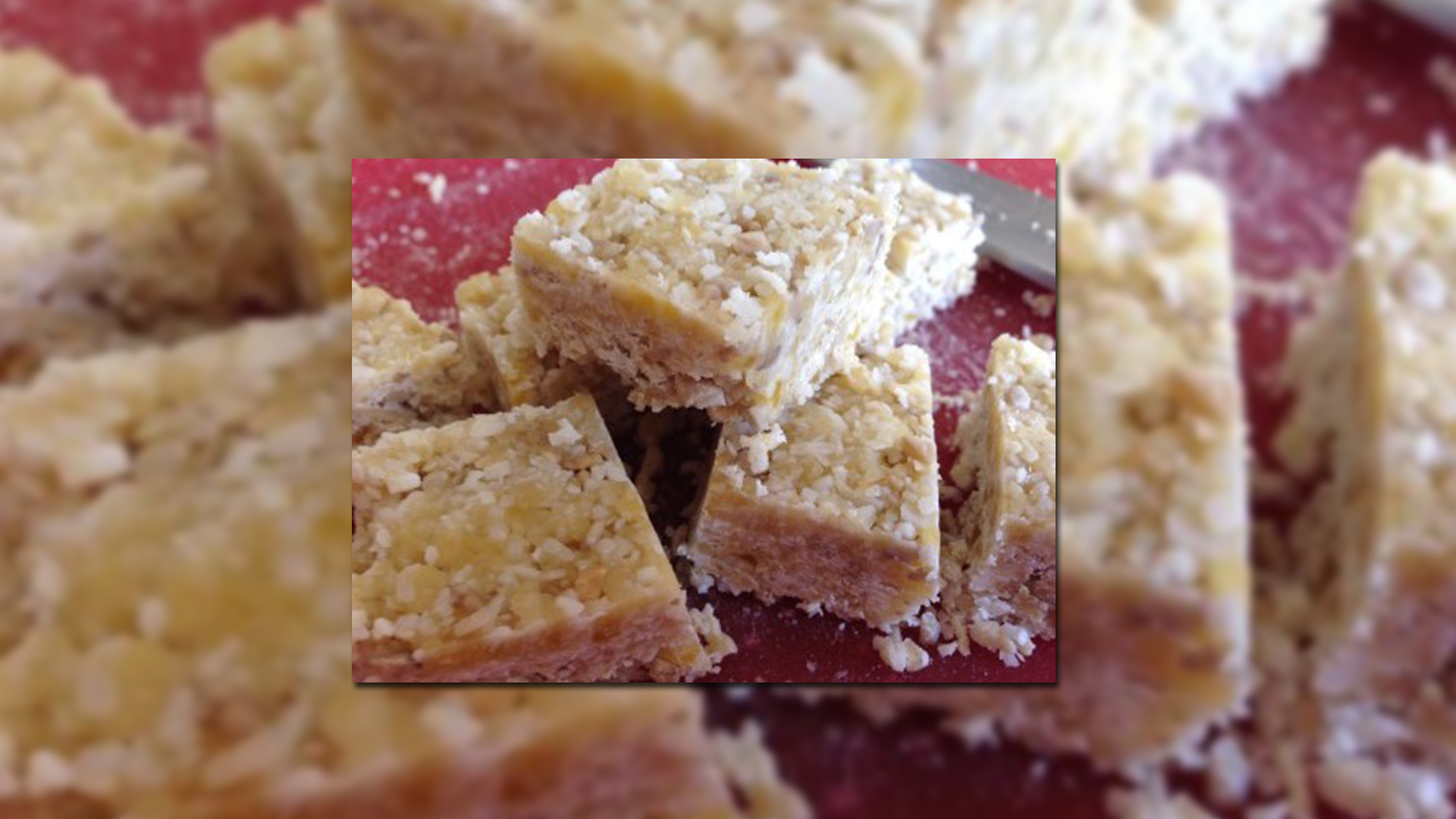 Ingredients:
150grm organic shredded coconut
200grm organic dried mango
150grm organic coconut oil
Pinch of Himalayan sea salt
Method:
Process mango in a food processor until fine and crumbly. Add the other ingredients
& process until sticky. Place mixture in a non stick square baking tin & press down
firmly.
Place in the freezer for approx 1 hour or until set then slice into small squares &
store in a airtight container in the fridge.
Debbie Bird
The Holistic Hub

THIS EASY RECIPE NOT ONLY TASTES DELICIOUS BUT WILL KEEP YOUR SUGAR LEVELS IN CHECK. ALSO A GREAT ONE TO MAKE WITH THE KIDS, THEY'LL LOVE THEM!
Ingredients
1 ¼ cups wholemeal self raising flour
1 egg
1 tsp vanilla extract
¼ cup maple flavored syrup (sugar free)
¼ cup melted coconut oil
Jam of choice (try find one with as little sugar as possible)
Method
Pre-heat oven to 180 degrees (fan forced) and lightly oil large flat baking tray.
Combine all wet ingredients in a bowl and mix well.
Add flour and combine all ingredients well.
Roll mixture into individual balls about 3cm wide and place on baking tray making sure there is space between each.
Press down on each ball to make a little hole. (use tsp measuring spoon, or thumb, I used a marble which worked perfectly)
Spoon small amounts of jam into each hole of the biscuit to only just fill, about ½ tsp
Place in oven and bake for 20 minutes or until a light golden brown.
Note: Store in a cool dry place for 3-4 days.
Macronutrients (each)
Makes approximately 20
Calories: 115
Protein: 3g
Fat: 3.5g
Carbohydrates: 16.5g
Fancy a raw cherry ripe that tastes just as good, if not better than the original? Here is Donna Hay's all natural, unprocessed and no-bake version. Featured in her Fresh and Light magazine, this guilt-free dessert is jam packed with wholesome, nutritious ingredients making it perfect for an indulgent after dinner treat or afternoon snack.
SERVERS: 20

Ingredients:
 6 fresh dates, pitted
1 cup (80g) desiccated coconu
⅓ cup (80ml) melted coconut oil
1 teaspoon vanilla bean paste
1½ cups (210g) fresh cherries, pitted (frozen also works)
100g raw organic 70% dark chocolate, melted coconut base
1 cup (150g) cashews
1 cup (80g) desiccated coconut
2 tablespoons rice malt syrup
Method:
To make the base, place the cashews, coconut and rice malt syrup in a food processor and process for 1–2 minutes, scraping down the sides of the bowl until the mixture starts to come together.
Press the mixture into the base of a lightly greased 20cm x 20cm baking tin lined with non-stick baking paper and refrigerate for 20 minutes or until set.
Place the dates, coconut, coconut oil and vanilla in a food processor and process for 1 minute or until the mixture starts to come together. Add the cherries and process for a further 30 seconds or until the mixture is just combined.
Pour the coconut mixture over the base and use a palette knife to spread evenly. Refrigerate for a further 30–40 minutes or until firm.
Pour over the chocolate, smooth the top with a palette knife and refrigerate for 1 hour or until set.
Slice using a hot knife and keep refrigerated until ready to serve.
Try my healthy dairy free protein pancakes – great for a post workout meal and fun to cook with the whole family.  I make them every weekend with my daughter she loves them!!

Ingredients
1 cups of vanilla protein powder
1 cup oats
½ banana2 eggs
1 tbsp chai seeds
¼ cup water
Method
Place all ingredients in a blender; add water and blend until your desired smooth consistency.
These are my favourite toppings
Banana
Strawberries
Honey